Monitoring the waves in Benin
The coast of Benin is highly susceptible to erosion due to its geographical situation along the Atlantic Ocean. The erosion of the beaches is further enhanced by the construction of paved dikes on land. Consequently, coastal tourism can not develop in this area. For that reason, the Benin Government made an extra effort in its Government Action Program to protect the Beninese coast.
An international Dredging company had been appointed to undertake
coastal protection works in Benin, including building a submerged offshore dike at about 150 meters off the coast and performing beach reclamation works.
The government's objective is to contain the advance of the sea on the west coast of Benin by 2021, by definitively solving the problem of coastal erosion and the damaging effects of climate change such as floods.
The submerged dike is situated at about 150 meters off the coast. The dike has a wave damping effect, which means that the waves of the Atlantic Ocean are broken before they reach the coast. A wave-free climate develops between the submerged dike and the coast. This will significantly reduce the impact on the beaches, as a result of which the sand will move less and the erosion will decrease.
Obscape had the great privilege of supplying five Wave Droids for monitoring during the building works. The Obscape Wave Droid which along with our latest launched Wave Buoy, use real time wave measurement and directional data to make better informed decisions for our clients' coastal construction needs.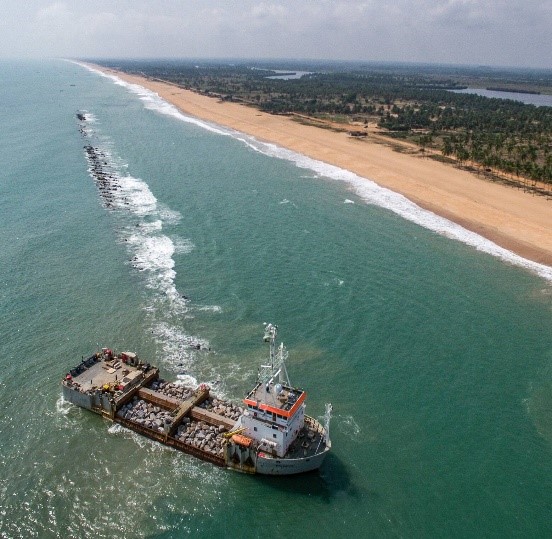 Reference articles: